Hydraulic Fork Lifts
Manufacturer: Wesco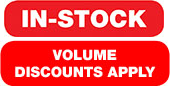 FOB: East Coast Warehouse

Normally ships within 5-10 days
5 Year Guarantee Against Weld Failure
1 Year Warranty
Made In The USA

Features:
1,000 lbs. lift capacity.
Floor locks, safety screen and foot guard are standard on all models.
Forks touch the floor on all models.
15" load center.
Front phenolic wheels are 5" diameter.
Forks lower to ground.
Adjustable span up to 25".
1" thick x 3" wide x 25" long forks.
Base leg span: 15" inside, 21" outside.

This is a factory stock item.
Low Profile Options Available.